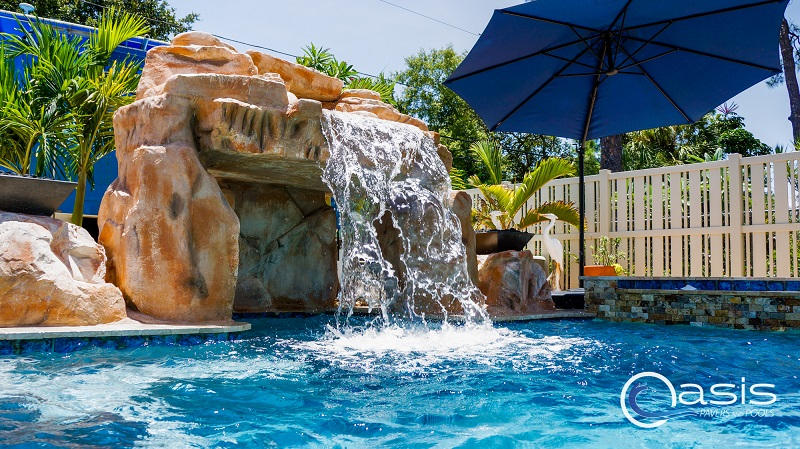 Waterfalls in Florida? Yes, if you have a custom made grotto on your pool you have the makings of a backyard oasis fitting of an aquatic paradise.
Reinforced Concrete Structure
The creative and talented pool builders at Oasis Pavers and Pools created a reinforced concrete Rico Rock reinforced concrete structure and finished it with an acrylic stain to make it look like a natural stone grotto and waterfall. Fed by powerful pumps to circulate pool water to the top of the structure and allow it to naturally cascade over the rock-like surface and into the pool for a very authentic grotto experience.

Relaxing Spaces
The pool also features an adjoining spa and sunshelf, giving the homeowners many choices for enjoying their new outdoor space in comfort.
Natural, Stone-like Appearance
Coordinating tile waterline around the pool and spa compliment the natural, stone-like appearance of the grotto. Flanked by palm trees and fire bowls, along with a nearby outdoor kitchen, the oasis theme is achieved in the backyard of this home in St. Petersburg, FL.