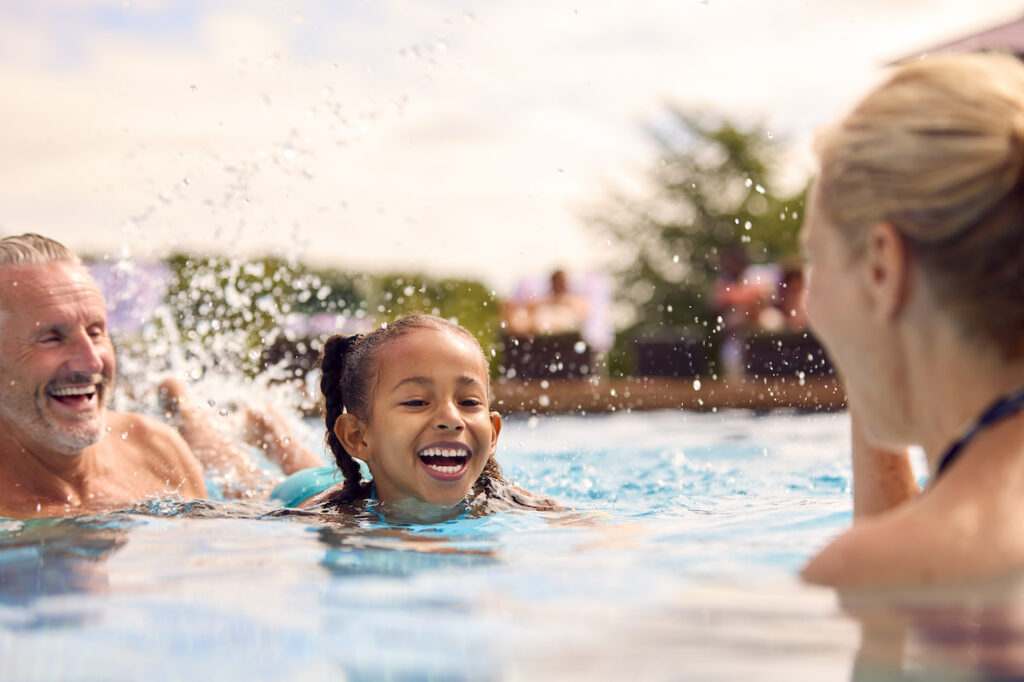 A pool is one of the most exciting home renovations. Will it be a relaxing retreat, a place for family fun, or is it a space for serious swimmers to swim? Living in St. Pete means you have a variety of options when it comes to building the perfect pool for your space. Whether you are looking for a spa/pool hybrid to relax in or a more social space to host parties and gatherings, Oasis Pavers and Pools will tailor a custom pool to suit you.
Let's take a closer look at the most popular types of pools in St. Petersburg, FL, and their wide array of benefits:
Spool or Cocktail Pool
You may see cocktail pools referred to as "spools," which is simply a play on words combining "spa" and "pool." Spools are typically smaller than the average pool but still have room for lounging or playing in the water. Often featuring jets or a current, this spool creates a feeling of relaxation similar to that found in an actual spa. We recommend getting a heater to get the full effect of having a spa. If you have a smaller backyard—no need to fret as that they take up less space than traditional pools making them a perfect addition to your own private Oasis.
Tranquility is the name of the game when it comes to spools.
Social Pool
If you consider yourself a social butterfly, then this type of pool is perfect for you! These pools are larger than spools and provide enough room for playing games and entertaining so you can host friends and family or even your furry friends. If you have the space, your options are endless. We can add a sun shelf for a place to put your favorite loungers in the water and soak up the sun.
Sunshelfs are the perfect space to add an umbrella and entertain younger children. You can add benches on the perimeter of your pool for friends to relax and have an iced tea or a margarita! You may opt for water features such as a spillover to listen to the peaceful sound of running water anytime or a fire feature for those romantic evenings.You have the option to add a spa for a separate area to wind down as well. 
Sports Pool or Lap Pool
For more active lifestyles—this is the pool for you. Sports pools are designed for exercise and include features such as shallow ends on either side, with a deeper center to accommodate laps. If you're looking for a pool that will get your heart rate up and provide the perfect place to get in some serious swimming—this is it! We recently completed our first volleyball pool!
No matter what type of pool works best for you, pools in St. Petersburg, Florida have plenty of options to choose from! Do your research to make sure you're getting the right one that meets all your needs and desires. With a little bit of imagination, you can easily create your oasis in no time!
Build Your Dream Oasis With Oasis Pavers and Pools
If you're looking for a pool in St. Petersburg, Florida to build your dream oasis, Oasis Pavers and Pools has your back! With any type of swimming pool we recommend that you hire a trusted local pool company to come out weekly to vacuum and maintain the chemistry of your water. This will ensure your pool will stay at its very best. We offer a variety of options for customizing your pool to fit any lifestyle, from spools to social pools and sports pools. Our team is dedicated to providing the best customer service possible so that you can have the perfect outdoor space to enjoy.
Contact us today to start building your pool in St. Petersburg, Florida today!