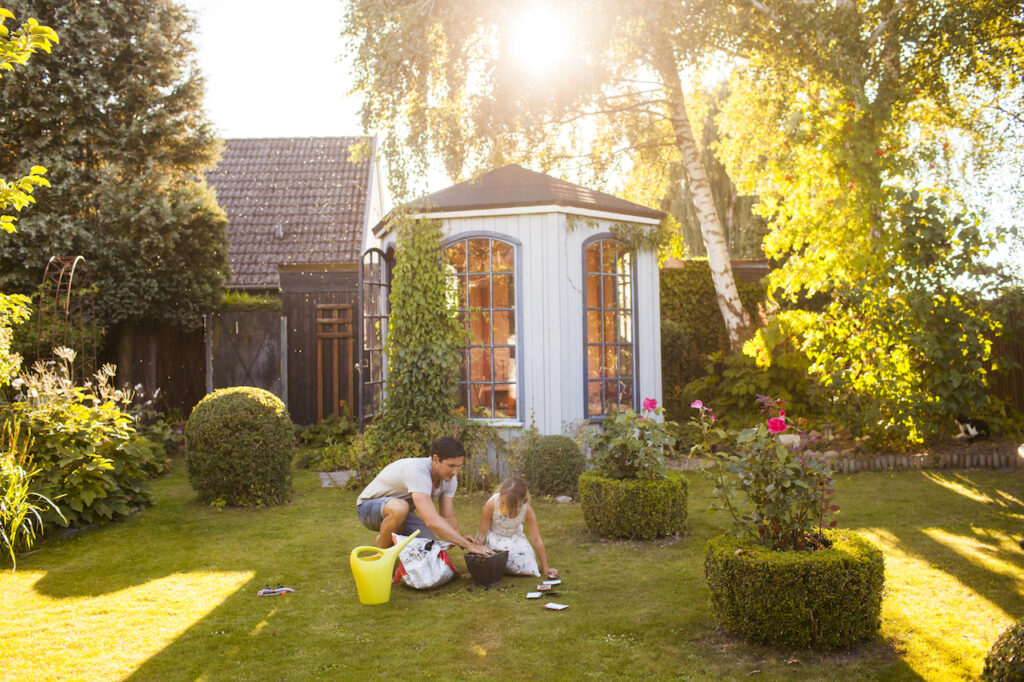 Sprucing up your yard and staying on trend go hand in hand when it comes to the new world of landscaping in Florida. Whether you're looking for a lush, green lawn or want to incorporate more hardscaping elements, there are several popular trends to consider for 2023. Oasis Pavers and Pools does more than just pools, we can help you build your dream outdoor living space with pergolas, palm trees, and hardscaping!
Below are the top seven trends for 2023 to consider when designing your landscaping in Florida.
1. Hardscaping
Hardscaping includes everything from driveways to patios to walkways and seating. Imagine your perfect backyard–you can spend your evenings eating dinner on the patio, enjoying your family, and making memories in your dream space. Patios are a sanctuary from the world.
When you design your outdoor space, you can create an elegant and contemporary feel or add more modern touches of metal and sharp lines. You can even create the cottage yard of your dreams with trellises with creeping vines and flowers planted along your walkway. With hardscaping, we can give you the outdoor living space you've always wanted.
2. Designer Pavers
Gone are the days of your grandma's plain old brick pavers. Now, it's all about incorporating designer pavers into your landscaping design. Choose from concrete pavers, porcelain pavers, travertine pavers, or marble pavers to create an elegant and sophisticated design for your outdoor space. We can match the style of your architecture so your outdoor living space is cohesive with your home. Whatever you envision, we'll make it a reality!
Plus, these can easily be incorporated into the other hardscaping elements for a more natural look and feel.
3. Vertical Lines
If your yard is on the small side, don't fret! Vertical lines are a great way to add dimension and interest to your outdoor space, especially smaller ones. Tall trees, shrubs, and other plants can form a beautiful backdrop for any landscape. Incorporating vertical elements into your design creates an elegant, modern look that is sure to be the envy of your neighbors.
4. New Materials
Materials that weren't traditionally used in landscaping in Florida are now being incorporated more and more. Materials like marble and porcelain can add a modern touch to your outdoor space while incorporating metals can create a bold statement.
5. Local Flora
Perfect for landscaping in Florida, incorporate local flora into your space to create a backyard oasis that's unique and beautiful. This natural look is perfect for those who love some greenery. An added benefit is that the use of native plants will also help give your yard some additional protection from pests and diseases.
6. Low Maintenance Designs
Sometimes pulling out the whole shebang isn't necessary. Consider a low-maintenance design that is both beautiful and efficient in its use of resources. This type of design uses native plants, drought-resistant grasses, and other elements that require minimal upkeep.
Transforming your landscaping doesn't have to be a long, drawn-out process. You can use these simple, low-maintenance elements to create a beautiful outdoor space that requires minimal upkeep.
7. Incorporating Water Features
If you'd like the serenity of a water feature without the hassle of regular maintenance, consider adding more permanent hardscaping elements like a fountain. This will give your outdoor space an extra touch of beauty and elegance that is sure to be admired by all who enter. Elevate your pool with fountains or waterfalls—this will give you the ambiance of calming water sounds.
Enhance Your Yard with Oasis Pavers and Pools
If you're ready to take your yard to the next level, look no further than Oasis Pavers and Pools. With years of experience in custom pool designs, hardscaping, and landscaping, we can create a backyard oasis that you'll never want to leave! Our outdoor living team is all landscaping professionals who can make your dream a reality. Our team will be there for you during the entire process.

Contact us today to experience the Oasis Pavers and Pools difference and get started on creating your dream landscaping in Florida.